In today's world where most of the organizations are focusing on developing their core competencies and getting competitive edge using the same, there is a rapid increase in organizations, which are becoming acquirers of needed capabilities by obtaining products and services from suppliers and developing less and less of these capabilities in-house. This helps them in improving their operational efficiencies by leveraging suppliers' capabilities, to deliver quality solutions rapidly, at lower cost and with the most appropriate technology.
CMMI for Acquisition (CMMI-ACQ) is a best practices model that can help you improve relationships with your suppliers by helping you improve your own processes. It can be used to increase your control of projects, better manage global sourcing of products and services, and more successfully acquire solutions that meet your organization's needs.
CMMI-ACQ is one of the 3 CMMI constellations: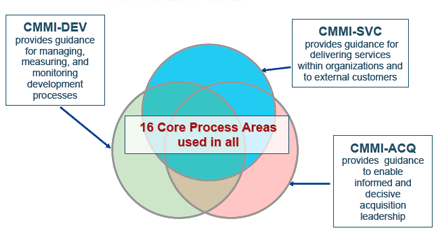 CMMI for Acquisition (CMMI-ACQ) is based on the CMMI Framework. The CMMI for Acquisition model has 22 process areas: six are specific to acquisition practices and sixteen are shared with other CMMI models.
The six process areas that are specific to acquisition practices are:
Acquisition Requirements Development (ARD)
Solicitation and Supplier Agreement Development (SSAD)
Agreement Management (AM)
Acquisition Technical Management (ATM)
Acquisition Verification (AVER)
Acquisition Validation (AVAL)
Acquisition Process Areas :: Process View:
Additionally, the model includes guidance on:
Acquisition strategy
Typical supplier deliverable
Transition to operations and support
Integrated team
Over 25 years, QAI has undertaken 700 hundred customer journeys across 30 countries.
Phone: +1 407-363-1111 info@qaiworldwide.org
Tollfree: 1800-103-4583 customer_relations@qaiglobal.com
Phone: +86-21-51314155 qaichina@qaiglobal.com
Phone: +65-6225-8139 qaisingapore@qaiglobal.com